I don't know about you but there's just something about the beach. The options are endless when deciding to elope. I think where to elope would be the biggest one. I mean the mountains, the beach, the city, and we can only pick one?! If the tropics are calling your name then you might want to check out these 10 unique elopement places. Some you may have already thought of some may not. Either way you're guaranteed to either make a decision or be more confused. lol
1. Bali
Have you even been to a tropical destination if you haven't been to Bali? Just kidding, but Bali is raising in the ranks of must see and vacation destinations. From personal experience, the most expensive thing you'd be purchasing when going there is your plane ticket and let me just tell you it is well worth it. From the food, the people, and just the overall vibe. The place doesn't disappoint! You can visit some of the surrounding islands for a less populated experience or you can dive right into Canggu and have some of the best smoothie bowls on this planet. Beaches are endless I mean your on an island so duh! And the sunsets are crazy beautiful. If you've been thinking about this place for your tropical elopement you've been thinking right! Depending on what season you're looking to get married in this place can be an absolute gem especially as far as pricing goes. You and your loved one can be treated like absolute royalty with prices comparable to a 3 or 4 star place in the US.
2. The Cook Islands
Looking to venture in the south pacific but maybe some place other than Bora Bora, Fiji or Tahiti then maybe the Cook Islands are for you. The journey to the island can be a bit long unless you happen to be based in Los Angeles, Auckland, or Sydney where direct flights are offered. But, once your there you can easily go from island to island by Air Rarotonga. Rarotonga is the "largest" island and the one you will be flying into. You can enjoy staying at some luxury villas or going for a hike. For more of a secluded experience make the short trip to Aitutaki. There are 3 luxury style stays available all with different experience but equally as relaxing. When staying at Aitutaki a lagoon tour is a must with visits to Honeymoon Island, One Foot Island, and the sand bar. The bright blue water with many atolls, sandbars, tiny islands, public and private beaches. You'll be able to find your own little slice of heaven.
I think what makes the Cook Islands on this list of unique elopement places is that I know before I saw Christina travel there it wasn't even on my radar. That can only mean that it hasn't been overrun by tourists, at least not yet. That mean it'll be even more relaxing and private if that's something you're looking for.
3. Australia – Whitsundays Whitehaven Beach
Australia is filled with beautiful beaches and places but if you take a little trip off the coast of Queenisland to Whitsundays you can take a short or maybe a long cruise ride to Whitehaven Beach will simultaneously blow your mind and fill you with so much awe. If you were looking for a place with silky soft sand and crystal clear blue water then I think this place is your dream! There is some work and transporting services that need to happen for you to get to whitehaven but once there you you're in a dream. And because is not as accessible as other beaches or even places you and your honey bun can find a nice little slice on the beach for just the two of you!
Forgot about Australia huh? Tickets to Australia can definitely be more on the pricier side especially when compared to some other places on this list. But, hey YOLO. Am I right? Australia is such a beautiful country at least that's what I've heard. Even if Whitsundays isn't the place for you there are loads of unique elopement places on the island(s).
4. Costa Rica
Though a very small island no bigger than the size of West Virginia this little country can be the sweet escape you were looking for. Pura vida is truly what everyone in this country lives by and it can be soothing to be in such a calm environment before that next big step. There are many great locations and beach front tops for you to choose from. It's just important to remember when choosing this destination that resources can be scarce and so it is all the more crucial to plan ahead. There's hiking, river rafting, and beach laying get as adventurous or non-adventurous as you want. Tours are the name of the game and you can pretty much find one for anything you'd want to do and believe that's the only way to get to the hanging bridge or the waterfall. Book one and you won't regret it!
The off season also know as rainy season is from May – November. Crowds are WAYY fewer but you'll also most likely get rain. Prices for places to say also gets cut about it half so you can definitely get some bang for your buck. This lush country could be the exact tropical getaway you were looking for. For more information check out my Ultimate Costa Rican Getaway blog post here.
5. Puerto Rico
This little island is still within the US so you won't have to break out your passports yet. Puerto Rico offers lush beaches with a rich history and kind people around every corner. You can do it all, from visiting Old San Juan, to seeing the salt flats, laying and relaxing on the beach, to hiking in lush rainforests. There's a little bit of everything thing to make your elopement one of a kind. This tropical getaway is yet another Carribean destination and a U.S. hidden gem. The water is that perfect aquamarine and the sea air constantly blows around the island. You can rest assured that your beach elopement will be filled with relaxation and fun.
Forgot about Puerto Rico didn't ya? I know I did. I think this just goes to show that unique elopement places can be in your backyard. Figuratively of course not literally.
6. British Virgin Islands
A well underrated place probably because like other places on this list the journey to get to this group of islands can be long and tedious. But, if you're letting that stop you that you must reconsider because that is exactly why they are so untouched and so worth the trip! This group of island is actually a collection of around 60 different islands. This group of islands boasts remote beaches, snorkeling, drinking, and just an overall good time. You can do it all from visiting a rum distillery to helicopter experiences or relaxing at the spa. There is absolutely no shortage of tropical adventures waiting for you here!

7. Malta
Maybe you've heard of Malta maybe you haven't. I visit heard of Malta in high school. Not because I'm rich and cultured but because one of my closest friend's parents happened to be from there. There accents we're like nothing I've ever heard before and though I was it would come off as rude I had to ask that super awkward question. She happily told and then proceeded to tell me about this beautiful country off the coast of Italy.
Malta is an incredible country with so much history, incredible food, and amazing people. I writing about this place like I've there. Ha, jokes. I wish. But, it is I promise. You can either keep reading or do the research yourself; you choose. Maybe the high seas and some wine are calling your name. You'll enjoy an absolutely incredible sunset. Maybe you'd rather enjoy some tea in the Fonatella tea gardens or you can just wonder around the city and get lost. Either way the cliff edges of the island make for incredible views and elopement spots.
8. Peru
I going to Peru next year. More specifically I'm going to Macchu Pichu. I'm speaking that into existence because it has been on my list for about a year now and I'm just DYING to get there. There are 2 main cities in Peru that most people travel to – Cusco and Lima. Lima is typically where you'll fly into and the Cusco has all the shopping and you'll also take the train to get to Macchu Pichu from here as well. Wouldn't that just be so epic to say your vows in one of the seven wonders of the world. Or maybe you love to hike and Rainbow mountain bridal would be INSANELY EPIC. Either way Peru is filled with the sweetest locals, the cutest shops, and so SO much adventure. So, I don't really know what we're waiting for??
9. Morocco
Morocco is an incredible place. And before you ask no I haven't been here either. But, you better believe this place is at the SPOT SPOT SPOT of my bucket list. If anyone wants to take me or come with please let me know in the comments below! The riads are jaw dropping gorgeous. Marrakech is a place filled with so much wonder, fun, and things to see around every corner. You can still in Marrakech and explore to your heart's content. Or maybe you dare to venture outside of the city and spend some time in the Sahara. I'd dabble in both in I were you. I think that this isn't just one of the most unique elopement places but one of the most uniques in the entire world. You could feel like Aladdin or Jasmine and ride on a magic carpet!? I mean I'm sold I don't know about you.
10. Belize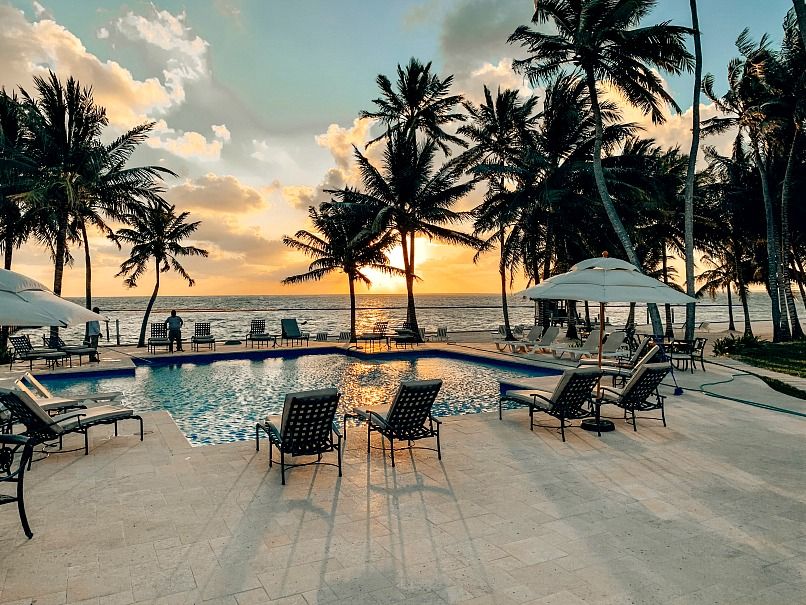 A lot of people say that Tulum is the Belize of Mexico. Well, maybe not a lot of people but I heard it once so I'm sticking with it. Why go to Mexico when there's Belize. When I hear Belize, I automatically think of exotic jungles, forests, and adventures like none other. If you're looking to stay in a resort, see some ruins, or maybe explore some caves then this place could very well be the place for you.
I didn't mention it above in the Marrakech/Morocco section but both Morocco and Belize can get pretty pricey. So, be ready to spend a pretty penny when and where is counts.
What's Your Next Adventure?
So, where's your next adventure taking you? Is it to the beaches of Whitsundays or maybe the mountains of Peru. All of these places would make such epic and unique elopement places. It's now just a question of where. You're not typical or average. You're an out of the box thinker so let me know where you decide!
** All opinions and thoughts are mine own. The information gathered is a mix of personal experience and research. Everything that is not my own is sited and please give credit to the original author. Thanks!